Join us! Dr. Mary offers weekly 1.5 hour Hatha yoga sessions. All abilities welcome!
New Location with more space to stretch out! 75 Irish Settlement Rd., Underhill Center.
When:  Typically we practice on Wednesday from 5:30 pm to 7 pm.
Call Mary to confirm the date/time/location. Any newcomers, please call to register ahead! 802-899-5400
Yoga Registration Form.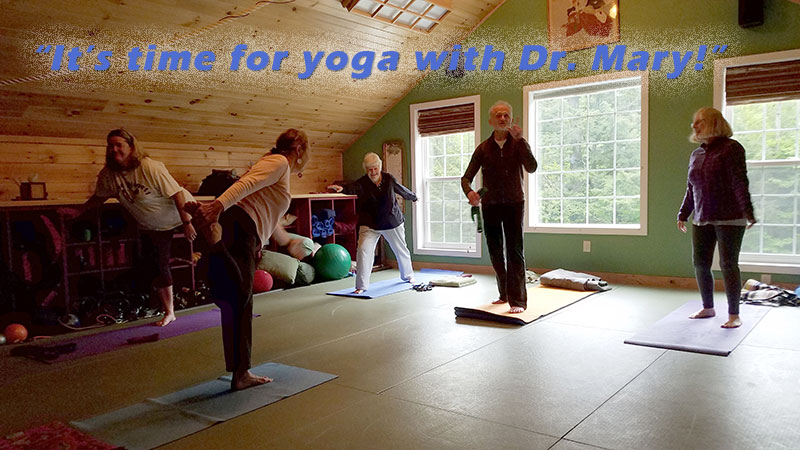 Yoga was developed over 5,000 years ago in India. The word yoga means union (of the mind, body, and spirit).  Complete yoga practice includes postures known as asanas, breathwork known as pranayama, vegetarian dietary habits, chanting, and meditation.  An estimated 11 million Americans practice yoga today.
Yoga is for all ages. You will benefit from yoga even if you are not fit, thin, or young. There are many ways that each body is different and yoga recognizes and respects this. Whatever your body can do is advantageous for you. After all, if you don't use it, you will lose it! One study showed that in just eight weeks of practice, there was a 35% increase in flexibility, especially in the shoulders and trunk.
You do not need a lot of special things to do yoga.  It is recommended that you get a sticky mat and wear loose clothing. Classes are designed to be suitable for all levels of practitioners. Drop-ins are always welcome! Single class fee: $15, 10-class series fee: $120. Newcomers, try your first class for $10.
A Great Gift! YOGA punch cards!!
With all of these benefits, what are you waiting for?
The benefits of yoga are many. The calming aspect of the autonomic, think automatic,  is that the nervous system is turned on so your blood pressure, pulse, respiratory rate, and blood sugar levels drop. Cardiac efficiency improves, gastrointestinal functions are enhanced. All the excretory functions of the body improve. Joint flexibility increases. Breath-holding time lengthens. Eye-hand coordination improves. The functions of the endocrine system are optimized. Reaction time increases. Strength increases. Posture improves. Endurance is extended. Energy increases. Weight management is helped. The immune system is supported. Balance is improved (which tends to worsen as we age and is a major cause of falls and injuries in the elderly). Depth perception increases. Your organ function is optimized during yoga especially since the body's core is twisted and bent.
Yoga creates a sense of wellbeing and improves mood. Hostility is decreased. Self-acceptance and actualization increase. Blood work in the area of the stress hormone, thyroid hormones, sodium, hematocrit, and hemoglobin level normalizes. I highly recommend yoga as it is used in the management of asthma, depression, insomnia, multiple sclerosis, diabetes carpal tunnel syndrome, and heart disease.