Dr. Mary Kintner employs a variety of treatment modalities to induce healing and increase well being.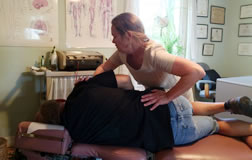 These include chiropractic joint adjustment and manipulation to optimize alignment and improve functionality from head to toe. These techniques range from gentle manipulation to more focussed methods using hands, devices or assists from a chiropractic adjusting table.
Other therapies and services provided at Kintner Chiropractic include:
ultrasound,
electric muscle stimulation,
nutritional consultation and supplements,
massage
custom orthotics (footbeds) and
supportive pillows for sleep and sitting.
Dr. Kintner is also a licensed massage therapist and a certified yoga teacher.